The historic trial in our fair funding lawsuit in the Pennsylvania Commonwealth Court concluded on March 10, 2022 with closing arguments. We have also concluded the post-trial phase of the case, where our lawyers submitted briefs about the legal issues in the case. And after oral argument on the legal issues took place on July 26, 2022, the case was in the hands of the judge. A decision in the case is expected to take several months.
All children in PA have the right to a high-quality public education that prepares them for college and career. This isn't just an opinion – it's the law, written into the state constitution in the 1870s. But in Pennsylvania, not every child gets the resources they need.
By failing to provide enough state funding, our leaders in Harrisburg have created a school funding system where the students who need the most get the least, simply because of where they live. Our leaders are severely shortchanging students in low-wealth school districts across the state, including where most of our Black and Brown students live.
It's wrong, it's unconstitutional and our leaders in Harrisburg are responsible. That's why we've taken state officials to court. The case is William Penn School District et al. v. PA Dept. of Education et al., and it is on trial in Pennsylvania's Commonwealth Court.


We filed our lawsuit in November 2014, challenging the constitutionality of Pennsylvania's inadequate, inequitable school funding system. (Here is a short summary of our complaint.) Seven years later, that case – filed on behalf of six school districts, two statewide associations, and several parents – finally went to trial.
Commonwealth Court Judge Renée Cohn Jubelirer is presiding over the case. The 48-day trial started on Nov. 12, 2021 in the Pennsylvania Judicial Center in Harrisburg. A decision from the judge is expected late in 2022.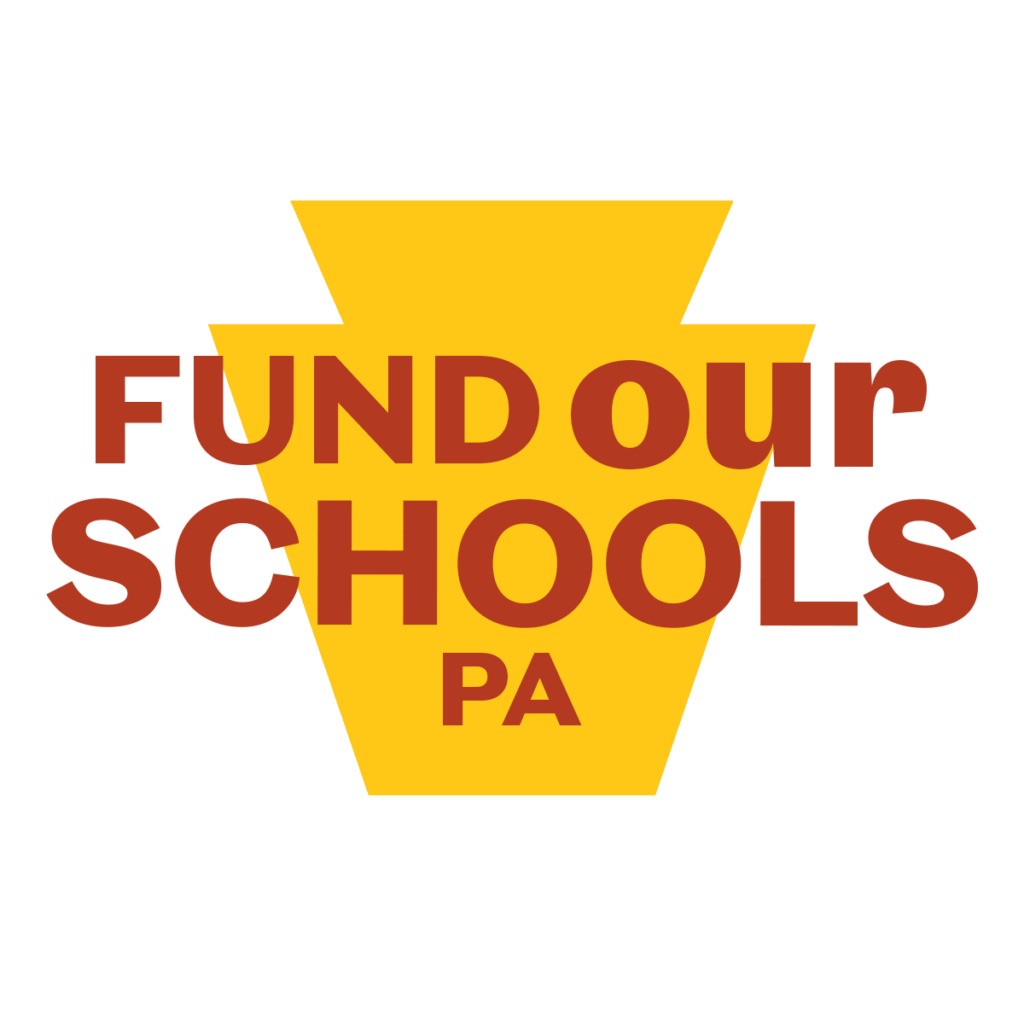 Read more about the case here. FundOurSchoolsPA.org is a website devoted to the lawsuit jointly produced by the Education Law Center and our co-counsel, the Public Interest Law Center. It was updated with daily highlights at the end of each day of the trial. Read press coverage of the trial here.
Use and follow the #FundOurSchoolsPA hashtag through the conclusion of this case.
* * *
A chronology of the case and relevant court documents are on the Cases page of our website.

A column about the case by our executive director:

On school funding, Pennsylvania is not doing its job. That's why we're in court.
Opinion (PennLive/Patriot News) By Deborah Gordon Klehr
All Pennsylvanians need to know that our state is failing. It is failing our children, our businesses, our taxpayers, and our communities by inadequately and inequitably funding our schools.
Pennsylvania once made a legislative commitment that 50% of education funding would come from the state ‒ but that commitment was not enforced and was abandoned decades ago. Each year, local taxpayers are asked to do more. In those districts where that is impossible, the kids simply must do without. Whole generations of Pennsylvania's children have suffered through inadequately funded school systems.
Our state's constitution requires the General Assembly to provide a thorough and efficient system of public education. But a system that leaves some students without the resources they need – reading specialists, guidance counselors, 21st century technology, or AP classes ‒ is not thorough. A system where only three-quarters of students in low-wealth districts graduate on time is not efficient. (Read more)
* * *
Six school districts, two statewide organization, and four parents are the petitioners who filed the lawsuit. But as shown on the map below, school district with severe funding gaps are found across Pennsylvania. Districts in darker shades have larger funding shortfalls; the 64 districts in deep red each have an "adequacy gap" of at least $4,000 per student.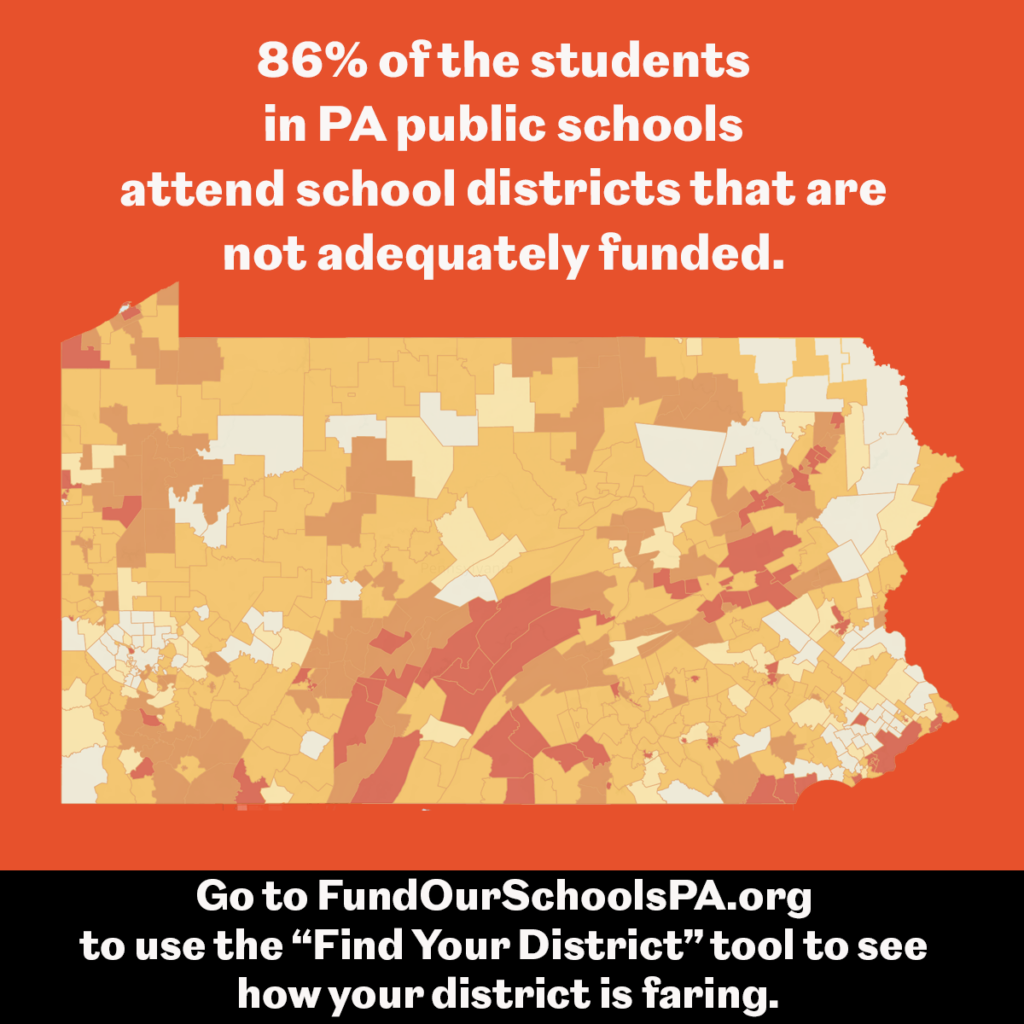 Here are some key resources about the case:
• Read Frequently Asked Questions about the lawsuit.
• Watch a short video about the case.
• See an interactive map of Pennsylvania school districts and their school funding "adequacy gaps."
• Read, download, print, and distribute fliers and fact sheets about the lawsuit.
• Read more about ELC's other statewide funding advocacy on our "Fighting for Fair School Funding" page.
• Learn about what other advocacy groups are doing to support the lawsuit.