A new report by the Education Law Center – PA
This groundbreaking report highlights the voices of Black girls attending public schools and sets forth their recommendations for creating more just school communities.
On May 4, 2023, we celebrated the release of the report with a virtual presentation about it. Watch a recording on Facebook Live.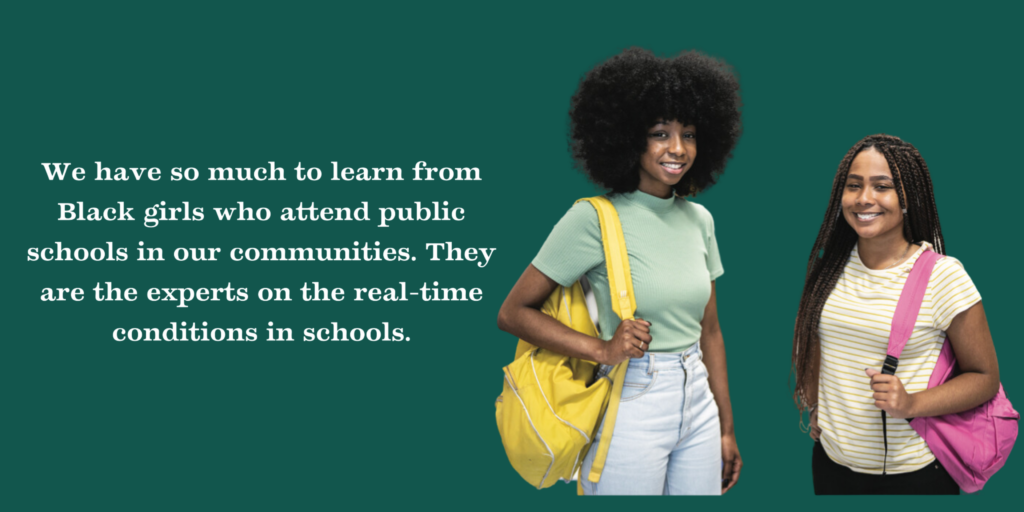 Why Do We Focus On Black Girls?
Inequities caused by anti-Black racism, sexism, ableism, homophobia, transphobia, and economic injustice pervade every aspect of Black girls' education and deprive them of the types of educational spaces they deserve and are entitled to under law. Public schools should be supportive, affirming, and well-resourced places where Black girls are championed in their academic and personal growth and have every opportunity to learn and thrive. This is far from the current reality.
We must center the needs of Black girls, who are experts on real-time conditions in our schools, to address interlocking educational barriers and implement overdue powerful and transformative solutions that Black girls in our community have outlined for us.
As part of our mission, ELC works to advance and uphold the rights of Black girls. In service of this commitment, ELC has developed a set of programmatic work that we call our "Black Girls Education Justice Initiative." Through our work we challenge the root causes of inequity through legal, policy, and communication strategies.
What Is Supportive Spaces?
We Need Supportive Spaces That Celebrate Us: Black Girls Speak Out About Public Schools is a report that centers students' experiences with Black girlhood and sets forth their recommendations for creating more just school communities. Through this report you can expect to:
Learn about how systemic forces of racism and intersectional inequities deprive Black girls of educational environments that are equitable, supportive, affirming, and well-resourced and examine the impact that these deprivations have on their overall quality of education
Learn about the key barriers that Black girls currently attending public schools in Pennsylvania, who are experts with lived experience, have identified as impacting their educational experience
Explore the recommendations made by Black girls to create more just schools, and situate these recommendations in conversation with scholarship, academic research, legal analysis, and critical community dialogue about the conditions needed to create just schools, particularly for Black girls.
Check out our one pager and share it with your networks. A reality where all public schools are #SupportiveSpaces4BlackGirls is possible through our collective efforts.
Call to Action: Join Us!
Join ELC and our partners to center and advance the educational rights of Black girls. ​
Join the conversation on Twitter using the hashtag ​#SupportiveSpaces4BlackGirls
Get involved in initiatives that center the lived experiences and expertise of Black girls ​
Call on decision-makers to make necessary changes so that schools are fully supportive of Black girls ​
Stay tuned for future opportunities to learn more, engage, and advocate
This work is made possible by support from generous donors. Please support us here.