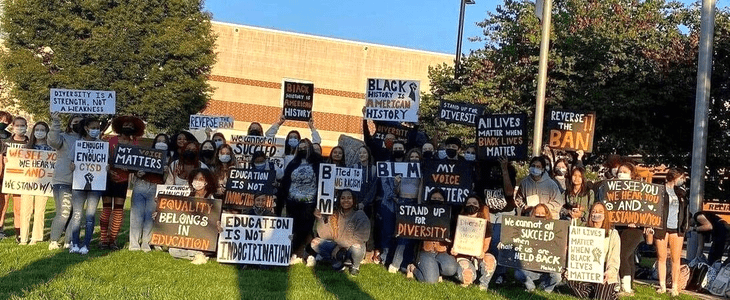 Every child deserves an education that prepares them for success, provides a safe place for learning, and honors their history and experiences. Welcoming and inclusive schools that provide honest, accurate information to our children give them the freedom to pursue their dreams and prepare them to fully participate in a diverse society.
Today there are organized national and local efforts threatening to undermine public schools by inflaming and dividing parents. They are banning books, banning the teaching of accurate history, threatening teachers with lawsuits, and trying to silence the voices of LGBTQ families and people of color. These actions are happening at school boards and in the state legislature.
Parents, students, faith leaders, business leaders, and community members working together can protect our schools, support student learning, and fight against these actions. We must make our voices heard.
When schools fail to welcome and address the needs of all students, they deprive students of the freedom to be who they are and to learn what they need to meet the challenges they will encounter as adults. This harms all our students and all our communities.

ELC provides the materials on this page for parents, students, and community members to use as resources and samples in their advocacy efforts.
Learn more about the authority of your local school board and how to advocate here.
To be part of ELC's fight for welcoming, inclusive schools and honest education, sign up here.
To support our work financially, donate here.
Follow these links to learn more about a particular issue area:
Fighting Book Bans
Welcoming and inclusive schools provide books and materials that allow students to see themselves and enable students to learn and explore the world and experiences of others. Schools already have rigorous processes to identify books with learning value that are age appropriate for students. Under Federal law parents have the right to review their children's circulation records.
Small groups of parents have made it their business to scare and inflame parents in order to impose their views on the school community. Students and their parents should be able to make their own choices, not be dictated to by others.
Attempts to ban books are on the rise around the nation; Pennsylvania is no exception. Since 2021, there have been more than 1,500 decisions to ban books in public schools nationally and 456 book bans in Pennsylvania. This worrisome trend is already negatively impacting Pennsylvania students, who have less access to the diverse viewpoints and ideas expressed in the books being banned.
Read more in ELC's fact sheet about book bans.
What We're Fighting: Library Censorship and Book Bans
In late 2020, the Central York School District removed dozens of booksfrom its curriculum and school libraries, children's books written by Black and Indigenous authors, and books about race and racism. While Central York reversed its book ban, nine additional school districts in Pennsylvania have proposed or passed book bans, including additional books that reflect the experiences of LGBTQ youth.
Read/Listen to SCHOOLED podcasts about book bans and community advocacy in Central York and Central Bucks school districts.
Read ELC's advocacy letters opposing the book ban policies proposed atCentral Bucksand Pennridge school districts.
State legislation proposed as SB 1277 is based on the false premise that school libraries are filled with sexually explicit materials and that parents have no rights regarding children's access to library books. It would require school boards to identify and prohibit books and materials that meet a vague standard of "sexually explicit content," regardless of the educational and literary value, which could include works like Romeo and Juliet. In practice books that include LGBTQ characters and themes would be most likely to be removed.
More than 300 organizations and individuals signed a letter opposing this bill. The legislation was referred to the education committee in June 2022 and is expected to move again in the Fall 2022 session. Contact your Pennsylvania legislator to oppose SB 1277.
Supporting & Affirming Gay, Transgender, and Non-binary Students
For students to learn and thrive, schools must be safe places where all students are valued, their individual learning needs are met, and they are given the room to grow into adulthood. LGBTQ and gender-expansive students have the right to be their full selves in school, and schools must provide equitable opportunities. Read our fact sheet about the rights of LGBTQ, gender-nonconforming, and nonbinary students here.
This past year we have seen unprecedented attacks against LGBTQ youth and transgender students, who have been targeted by conservative elected officials and used as political fodder to win elections. Across the country and here in Pennsylvania, extremist forces are working to divide and inflame parents through discriminatory legislation and school board actions.
What We're Fighting: Banning Pride Flags, Don't Say Gay Laws, Sports Discrimination
Banning Pride Flags and 'Don't Say Gay' Bill (SB 1278)
Too often, our schools are still hostile environments for LGBTQ youth, who face higher rates of bullying and harassment and are at increased risk for depression and self-harm. Educators hang pride (rainbow) flags in school classrooms, libraries, and counselor offices as a sign that LGBTQ students are safe to be themselves and can come to that staff for support if needed. It is a message that hateful or discriminatory comments from other students will not be tolerated. Banning the display of gay pride flags tells LGBTQ students they are not safe or supported and is antithetical to the mission of public schools to provide safe, equitable opportunities for all students. Schools must acknowledge and welcome ALL families including LGBTQ and gender-expansive students and families.
Read ELC's Letters to Central Bucks and Hempfield school districts highlighting the discrimination and harm in their hostile environments and urging these district to uphold the clear legal rights of LBGTQ students.
The Pennsylvania Senate passed SB 1278 on June 28, 2022, on a party-line vote. The bill is more restrictive than Florida's "Don't Say Gay" bill. It would ban classroom discussions of sexual orientation or gender identity until the sixth grade, prohibiting teachers from answering students' questions and silencing children from talking about their LGBTQ family members. The legislation would remove teachers and counselors as sources of support for students by forcing teachers to report conversations about mental health issues to their parents or face legal action.
More than 300 organizations and individuals signed ELC's letter against this bill.
Read an op-ed by a recent high school graduate and ELC intern on SB 1278.
Read Gov. Wolf's LGBTQ Affairs Commission statement denouncing the Don't Say Gay Bill.
School districts are also trying to prohibit the acknowledgment of transgender students and parents and censor the discussion of current events.
For example, proposed policies at Pennridge School District would stifle normal classroom discussion about political issues that are integral to student learning and would have a chilling effect on issues related to race, gender and sexual orientation. The proposed policies were exceptionally overbroad and violated the First Amendment rights of students and teachers.
Read ELC's letter opposing proposed Pennridge School District policies to censor educators and restrict student expression.
Pennridge School Board members are wrongly using a recent U.S. Supreme Court decision to claim that Pride flags may not be permitted in schools. Read a letter from the ACLU and ELC which describes how Shurtleff vs. City of Boston does not control what schools may display in classrooms.
Parents in Mt. Lebanon School District sued their district and an educator who read a storybook to children that included a transgender character, arguing their child must be excused from any mention of gender identity, and only books and lessons describing the lives of straight cisgender people are acceptable in public schools. The school district defended the educator but settled the case in a manner that perpetuates discrimination against transgender students. Read news coverage of the complaint and the district's initial response citing their mission and equity statement, and a student-organized petition to protect discussion of LGBTQ topics in schools.
Transgender sports discrimination
HB 972and SB 1191 are bills in the Pennsylvania legislature that would single out transgender athletes for discrimination by denying them the ability to play on teams that align with their gender identity. Federal courts have found that discrimination based on gender identity and expression violates Title IX and similar bans have already been struck down by federal courts. HB 972 was approved by the General Assembly in June and vetoed by Gov. Wolf on July 8, 2022.
Read ELC's letter opposing House Bill 972.
Read Gov. Wolf's veto message against legislation targeting transgender youth.
School districts are also taking up policies targeting transgender youth. On July 14, the Hempfield School District approved a transgender sports ban over vigorous parent and community opposition, and other districts are considering similar bans.
Read ELC's letter to the Hempfield School Board opposing their discriminatory ban.
Read coverage of the Hempfield School District action.
Fighting Curriculum Bans and Classroom Censorship
Parents and schools must work together to ensure that every child gets a quality education — one that recognizes their unique needs and provides them with the resources they need to reach their full potential, no matter their race or background.
In the wake of George Floyd's murder in 2020 more people came together to oppose long-entrenched issues such as police brutality, institutionalized racism, and other oppressive systems. In response to such strong and united forces working together in unprecedented ways, well-funded right-wing groups like Moms for Liberty and Woke PA formed in opposition and began to fight efforts to improve racial justice in public schools and are currently pushing school districts and the General Assembly to ban books and accurate history. There is a growing effort to prevent students from learning to think critically and learn about the world, eliminate school district diversity, equity, and inclusion committees, and restrict teachers' speech with the threat of lawsuits. They are fighting efforts to teach children accurate information about our past including the history and legacy of enslavement, housing segregation, and events like the Holocaust.
Critical race theory (CRT), a well-established academic and legal framework addressing how racism is embedded in U.S. laws and institutions, has been catapulted into the public dialogue. This set of concepts, most commonly taught to law and graduate students, has become the catch-all phrase of those who seek to censor any educational discussions dealing with race or racial justice in American schools, no matter the grade level or content. "Banning CRT" means denying students truthful conversations about systemic racial discrimination. This is an attack on free speech that robs students of important lessons from our history, reinforces white supremacy, and undermines core values of education.
Parents across Pennsylvania want truthful education, classrooms where students are valued and accepted, and curriculum that sets kids up to succeed.
By learning the true history of our nation –– the good and the bad –– our children can see how far we've come while also learning about how to build a better antiracist future for us all.
What We're Fighting: Anti-History and Classroom Censorship Bills
HB 1532, HB 2521
These bills in the Pennsylvania legislature violate our long history of free speech by dictating what teachers can say in the classroom. The bills seek to intimidate teachers and prevent discussions of current events or American history, conversations that students need to be prepared for adulthood, become informed critical thinkers, and participate fully in civic society.
Read ELC's letter to the General Assembly opposing HB 1532. Find your legislator to oppose HB 1532 and HB 2521 here.
States that have proposed or enacted classroom censorship bills can be found hereand you can search for individual incidents of censorship within Pennsylvania here.
Read how some school districts are embracing challenging discussions as critical for democracy.
Learn about promising practices to build affirming and antiracist schools.