The COVID-19 pandemic and resulting school closures have reinforced the stark inequities facing children in Pennsylvania. When Gov. Wolf announced on April 9, 2020, that schools would remain closed for the rest of the school year, schools were expected to continue to provide education in some form. But the pivot to online instruction was not a smooth one, particularly in the many low-wealth districts that are chronically underfunded by the state.

Hopes that in-person schooling could fully resume for students across the state in the fall did not come to fruition, as schools continued to grapple with community spread of the coronavirus. Now in 2021, with many school districts still not returned to fully in-person instruction, the need for continued online schooling still presents tremendous challenges in providing equal access to all.

Throughout this period, ELC remained fully operational, working remotely to connect students and families with resources to help navigate this unprecedented crisis. If you need to seek legal advice, please contact our Helpline at 215-238-6970 (Eastern and Central PA) or 412-258-2120 (Western PA).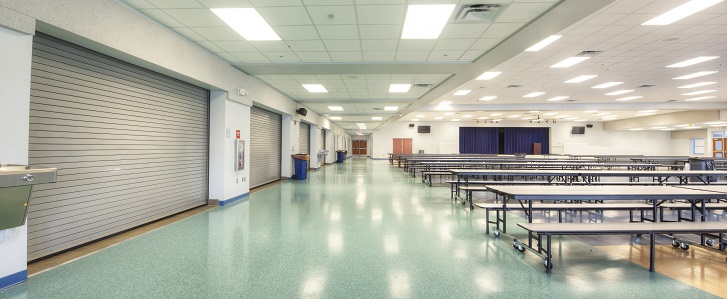 ELC'S ADVOCACY
The COVID-19 pandemic has created multiple challenges and new costs for schools: for protective equipment, cleaning, facilities renovations, technology, counseling supports, and more. In the grips of a severe economic downturn, the federal government is the only branch that has the capacity to spend what is needed for schools.
The federal government did respond quickly with the adoption of the CARES Act by Congress in March 2020. But for months, another package of education aid was expected but not delivered. ELC joined with partners to call on Pennsylvania senators to take action on federal education aid. Congressional action finally did deliver substantial aid to education through two additional recovery packages, culminating with the adoption of the American Rescue Plan in March 2021.
Meanwhile, as school resumed in September, ELC prepared an equity checklist to help ensure that all students and families across the state are being provided equal access to quality education. The disparities we saw when schools shifted from in-person to online instruction in the spring cannot be allowed to continue.
Deborah Gordon Klehr, ELC's executive director, explored these disparities in an August column, "How Do We Narrow the Growing Education Divide During a Pandemic?"
When the pandemic first hit Pennsylvania in the spring, ELC authored a letter on March 23 to Gov. Tom Wolf and Pennsylvania Secretary of Education Pedro Rivera, signed by more than 90 organizations, calling for an executive order and rigorous guidance for schools, requiring schools to provide educational services to all children — including individualized programs to meet the needs of students with disabilities and appropriate supports for English learners. ELC sent a follow-up letter urging Gov. Wolf and Secretary Rivera to provide "clear, detailed guidance" to school districts on how to ensure that all student populations are being supported during COVID-19 school closures. ELC also joined with the statewide PA Schools Work campaign to co-author an April 21 letter to Pennsylvania's Congressional delegation, urging them to act on an additional federal aid package for schools.
ELC and its partners have produced a guide for supporting older youth who are experiencing homelessness or have experience in foster care. ELC partnered with the Pennsylvania Immigration & Citizenship Coalition on a webinar (available on video) on protecting the rights of English learners and limited-English proficient parents during the COVID-19 pandemic. ELC joined with other civil rights and education organizations in a joint statement to policymakers and the public, highlighting both the growing inequities exposed by the pandemic and some promising practices and recommendations for ensuring educational equity.
Learn more about ELC's advocacy in this article and in our April, May, August, and October newsletters.
5 THINGS TO KNOW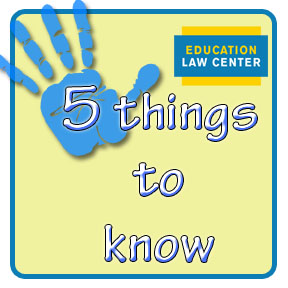 ELC compiled a series of resources with key facts for families to help navigate the COVID-19 educational landscape. The following 1-page resources are now available.
COVID-19 School Closures: General Information
COVID-19 School Closures & Students in Foster Care
COVID-19 School Closures & Students Experiencing Homelessness
COVID-19 School Closures & English Learners (English)
COVID-19 School Closures & Students with Disabilities
PENNSYLVANIA'S GUIDANCE FOR SCHOOLS
The Pennsylvania Department of Education has outlined its instructions on how schools should be handling COVID-19 closures in a "Frequently Asked Questions" document on their website. This is updated regularly; check back frequently. It addresses many topics, such as continuity of education, meals for children, special education services, and student enrollment and attendance.
MEDIA COVERAGE OF COVID-19 AND SCHOOL CLOSURES
Below is a list of news coverage documenting the inequities laid bare by COVID-19 across Pennsylvania's school districts, followed by a selection of articles detailing the issues more broadly. We will continue to update this page with relevant media.

Media Coverage of Pennsylvania Students, Schools, and School Districts
How much money will your school district get of the $5B in COVID relief headed to Pennsylvania? TribLive, April 2
Report: At-risk Pennsylvania schools shorted millions in COVID-19 aid, Beaver County Times, Dec. 10
New Pa. data shows how the pandemic gave a big boost to cyber charter schools, WHYY, Dec. 8
Online or in school? Districts weigh options before telling Pa. their plans under new COVID-19 rules, PennLive, Nov. 24
Pennsylvania schools to commit to safety measures as COVID cases rise, Chalkbeat Philadelphia, Nov. 24
How are coronavirus cases in schools being reported? 'It's a hodge-podgey mess', Philadelphia Inquirer, Oct. 10.
A School Year Like No Other, Philadelphia Inquirer, Aug. 28.
Students With Special Needs Face Enormous Difficulties During the COVID-19 Pandemic, KYW, Aug. 25.
If a student tests positive for COVID-19, here's what schools will do and what parents should know, PennLive, Aug. 25.
Three Days of Talk in Harrisburg Yield Scant Consensus on Critical School Reopening Questions, Pennsylvania Capital-Star, Aug. 5.
With the revised all-online school opening, advocates call for more action on expanding internet access, The Notebook, July 28.
Remote Learning Gains Steam in Pennsylvania's Largest School Districts, Pennsylvania Capital-Star, July 26.
Board of Education Punts on Reopening Plan After Backlash During Marathon Meeting, The Notebook, July 24.
COVID-19 pandemic exacerbates funding, inequality concerns among Pa. schools, Pennsylvania Capital-Star, June 26.
'It's not cutting it': Significant roadblocks deter special education students from progressing at home, Lancaster Online, June 9.
The Remote School Year is Almost Over. Here's How Philly Schools Fared, Next City, May 27.
Planning amidst uncertainty, The Notebook, May 26.
Playbook for reopening schools: CHOP calls for face shields, staggered schedules, WHYY, May 22.
Letter to the editor: Addressing school injustices, by ELC staff attorney Cheryl Kleiman, TribLive, May 15.
In Philly, amid the coronavirus, a step forward for transgender students, The Philadelphia Inquirer, May 13.
Pa.'s top education official says he expects students to return to in-person learning in the fall, The Philadelphia Inquirer, May 11.
Masks, staggered schedules, social distancing: When Pa. students return to school, things will look different, The Philadelphia Inquirer, April 29.
No internet. No backup plan: What happens to seniors raising grandkids in the pandemic? The Philadelphia Inquirer, April 27.
A rainy day at District headquarters: Some get laptops, and others get frustrated, The Notebook, April 21.
Address, change inequities in city schools, by ELC staff attorney Cheryl Kleiman, Pittsburgh Post-Gazette, April 19.
COVID-19 Spotlights The Harsh Inequities in Public Education, The Pittsburgh Current, April 15.
School Leaders Say It Will Take A Long Time For Students To Make Up For COVID Closures, WESA, April 15.
Online learning opportunities should be equal for all PA students, The Ambler Gazette, April 14.
Readers React: Some schools can't provide laptops and WiFi, by ELC executive director Deborah Gordon Klehr, The Morning Call, April 13.
As schools pivot to online, Pottstown is left behind, Pottstown Mercury, April 5.
Children of the COVID – What's being done for foster kids suffering physically, mentally from coronavirus?, Philadelphia Weekly, April 1.
Coronavirus shutdown reveals inequity of student internet access across Pa., WHYY, April 1.
School Shutdowns Raise Stakes of Digital Divide for Students, Associated Press, March 30.
Philly to Buy Laptops for Needy Students For Virtual Classes During Shutdown, WHYY/The Notebook, March 25.
Coronavirus highlights inequity among Lehigh Valley schools, as students with least stand to lose most during closure, advocates say, The Morning Call, March 25.

COVID-19 and Schools: General News and Commentary
Child cases of COVID-19 rising with school year around the corner CNN, July 21
Congress approves massive infusion of funds for schools, and high-poverty districts will get the most, Chalkbeat, March 15
We Asked 175 Pediatric Disease Experts If It Was Safe Enough to Open School, New York Times, Feb. 11
Do schools spread COVID? It may depend on how bad things already are around them, Chalkbeat, Jan. 4
Opinion: Most schools should close and stay closed through winter, Washington Post, Nov. 24.
Kids, school, and COVID-19: What we know — and what we don't, AAMC, Nov. 5
As more students head back, here's what we now know (and still don't) about schools and COVID spread, Chalkbeat, Oct. 22.
Opinion: What Parents Need to Know about School Coronavirus Case Data, The New York Times, Sept. 28.
Affluent Parents Are Pulling Their Kids Out of Public Schools, Huff Post, Sept. 4.
Schools Can Open, Germany Finds, But Expect a 'Roller Coaster, The New York Times, Aug. 27.
Districts Go Round and Round on School Bus Reopening Plans, Associated Press, Aug. 5.
Why Is There No Consensus About Reopening Schools? The New York Times, July 29.
The Latest in School Segregation: Private Pandemic 'Pods,' The New York Times, July 22.
Remote School Is a Nightmare. Few in Power Care, The New York Times, June 29.
Schools provide stability for refugees. COVID-19 upended that, The Hechinger Report, June 27.
Educating children with disabilities during COVID-19: 5 things to know, The Notebook, June 23.
Pandemic-Stricken Schools Tell Senate They Need Help to Reopen, The New York Times, June 10.
Research Shows Students Falling Months Behind During Virus Disruptions, The New York Times, June 5.
Virtual charter schools and online learning during COVID-19: An imperfect comparison, The Brookings Institute, June 2.
Survey Shows Big Remote Learning Gaps For Low-Income and Special Needs Children, NPR, May 27.
Homeless students set adrift by school closures face crisis after crisis, The Hechinger Report, May 23.
COVID-19 Highlights The Harsh Reality Facing Black Girls, Girls of Color, Essence, May 19.
Detained Children Left Out of COVID-19 Response, Human Rights Watch, May 14.
COVID-19 exposes America's broken social safety net, The Hill, May 9.
School Discipline in the Era of COVID-19, Endzerotolerance.org, May 7.
Teachers use high- and low-tech means to reach English Language Learners during coronavirus crisis, The Hechinger Report, April 28.
Don't Forget About the Children Suffering in Silence, The Root, April 20.
50 Million Kids Can't Attend School. What Happens to Them? The New York Times, April 16.
Millions of public school students will suffer from school closures, education leaders have concluded, The Washington Post, April 13.
Supporting LGBTQ Students During Social Distancing, Teaching Tolerance, April 8.
As School Moves Online, Many Students Stay Logged Out, The New York Times, April 6.