Staff Attorney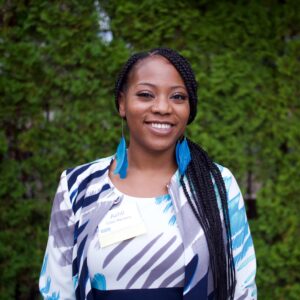 Ashli Giles-Perkins (she/her) joined the Philadelphia office of the Education Law Center in October 2020 as an Independence Foundation Public Interest Law Fellow. Ashli's work centers on addressing the significant educational injustices for youth involved in the child welfare and juvenile justice systems in the Philadelphia area who enter, reside in, and leave residential facilities. Ashli provides representation of students and families, trainings for families and communities, and significant outreach to stakeholders to ensure oversight, accountability, and access to quality education for system-involved youth.
Ashli graduated with a J.D. from Loyola University Chicago School of Law with a certificate in child & family law, as well as with an M.Ed. in cultural educational policy studies from Loyola Chicago's School of Education. While at Loyola, Ashli interned with Advocates for Children of New York and the Chicago Lawyers' Committee for Civil Rights, and she served as a research assistant to the law school dean. Ashli was a Civitas Child Law Fellow, a member of the National Black Law Students' Association at the local chapter and Midwest region and also served on its national Board of Directors.  Ashli was a staff writer for the Public Interest Law Reporter and also served as president of the Education Law & Policy Society.
Originally from Bridgeport, Conn., Ashli attended the University of New Haven, where she obtained a dual degree in criminal justice and psychology. During her gap years, Ashli was an avid community organizer and education equity activist and lobbyist. Ashli's community-centered background and her focus on both education and juvenile justice have positioned her, with the guidance of the Education Law Center, to begin breaking down systemic barriers that face system-involved youth.
215-238-6970 ext 312