Staff Attorney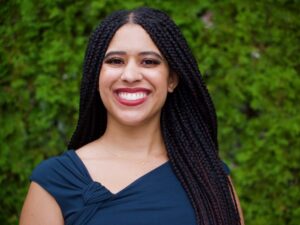 Paige Joki (she/her) is a staff attorney at the Education Law Center, where she represents students, conducts trainings, and advocates to address the individual and systemic educational barriers facing students in Pennsylvania. She is responsible for leading the Education Law Center's Black girls' education justice initiatives. Paige is the proud inaugural winner of the Temple Law's Student Public Interest Network's (SPIN) 2022 Public Interest Impact award for her impactful legal advocacy.
Paige joined ELC's staff in 2017 as an Independence Foundation Public Interest Law Fellow, with a focus on eliminating individual and systemic barriers to quality education for students experiencing homelessness in the Philadelphia region. Highlights of her two-year fellowship include drafting an amicus brief in G.S. v. Rose Tree Media School District, resulting in the first appellate court ruling on the application of the federal McKinney-Vento Act in an educational context ‒ and a successful motion to make that ruling precedential as well as multiple cases brought on behalf of students experiencing homelessness. Paige also provided more than 30 "Know Your Rights" legal trainings and clinics for hundreds of students, parents, providers, and organizations serving students experiencing homelessness.
Originally from Boise, Idaho, Paige completed her undergraduate studies with honors at Whitman College in Walla Walla, Washington. In 2014, Paige was selected as a NAACP LDF Earl Warren Fellow and a Temple University Beasley School of Law Rubin-Presser Social Justice Fellow.
During her time at Temple Law, Paige participated in clinical internships through the Sheller Center for Social Justice and worked at the Idaho Coalition Against Sexual and Domestic Violence. Paige interned and externed with the NAACP Legal Defense Fund, where she was selected for the Honorable Lewis H. Pollak Memorial Scholarship. She also served as a student mentor for the Black Law Student Association (BLSA) and Rubin-Presser fellowship.
Upon graduation in 2017, Paige was inducted into the Rubin-Presser Public Interest Honor Society. She also received the Beth Cross Award for her notable contributions to public service at Temple and devotion to pursuing a legal career in social justice.
215-238-6970 ext 303