Please join us at 5:30 PM on September 25, 2019, at the Crystal Tea Room in Philadelphia as we celebrate our work ensuring access to quality public education for all children in Pennsylvania.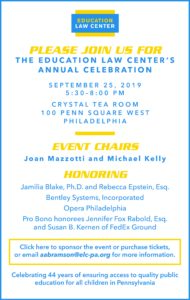 We hope you will join us and our event co-chairs, Joan Mazzotti and Michael Kelly, to honor our 2019 Champions of Education, including:
Jamilia Blake, Ph.D. and Rebecca Epstein, Esq., authors of Girlhood Interrupted: the Erasure of Black Girls' Childhood, a leading report on the adultification bias facing Black girls.
Bentley Systems, Incorporated, a global software development company focused on sustaining the world's infrastructure, with a demonstrated and passionate commitment to STEM education programs for elementary school students in Pennsylvania.
Opera Philadelphia, one of the most innovative opera companies in the nation that also addresses the gap in arts education and access in the Greater Philadelphia region through an intensive, in-school, literacy-based music education program and robust after-school programs.
Pro Bono Honorees Jennifer Fox Rabold, Esq. and Susie Kernen of FedEx Ground, for their work administering a trust on behalf of children living in a group home who had been denied access to an appropriate education.
If you would like to speak with an ELC staff member regarding buying tickets or sponsoring ELC's event, please contact Allegra Abramson at (215) 278-9765 or aabr[email protected]. Otherwise, please visit our ticket site below: